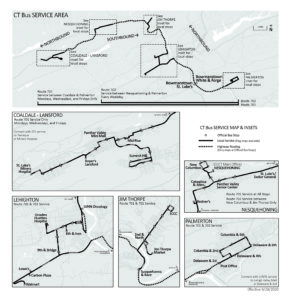 The CT Bus was modified to run the schedule below, effective September 28, 2020.
There will be two CT Bus routes: 701 and 702. | CT Bus Route Map
701 operates Monday, Wednesday, and Friday. Route 701 operates from Coaldale to Palmerton. Suspended until April 3rd, 2023; please refer to Flex Route 750, found here.
702 operates Monday through Friday. Route 702 operates from Nesquehoning to Palmerton.
Both routes will connect to LANtaBus Route 325 in Palmerton.
Southbound

Weekdays
M, W, F
Weekdays
M, W, F
M, W, F
Community
Stop
702
701
702
701
701
Coaldale
St. Luke's Miners Hospital
9:15 AM
1:15 PM
5:00 PM
Lansford
Boyer's Lansford
9:20 AM
1:20 PM
5:05 PM
Lansford
Panther Valley Mini Mall
9:25 AM
1:25 PM
5:10 PM
Summit Hill
Summit Hill
9:30 AM
1:30 PM
—
Lansford
Mid Rise
9:35 AM
1:35 PM
5:15 PM
Nesquehoning
Redner's
9:40 AM
1:40 PM
—
Nesquehoning
Panther Valley Senior Center
9:43 AM
1:43 PM
5:23 PM
Nesquehoning
New Columbus
9:45 AM
1:45 PM
—
Nesquehoning
NESQUEHONING (CT Main Office)
8:50 AM
9:50 AM
11:50 AM
1:50 PM
5:25 PM
Nesquehoning
Panther Valley Senior Center
8:52 AM
9:52 AM
11:52 AM
1:52 PM
Nesquehoning
St. Lukes/Dollar General
8:55 AM
9:55 AM
11:55 AM
1:55 PM
Jim Thorpe
Jim Thorpe Market
9:06 AM
10:06 AM
12:06 PM
2:06 PM
Jim Thorpe
Jim Thorpe High School
9:10 AM
10:10 AM
12:10 PM
2:10 PM
Jim Thorpe
2nd & North
9:12 AM
10:12 AM
12:12 PM
2:12 PM
Jim Thorpe
Susquehanna & Race
9:15 AM
10:15 AM
12:15 PM
2:15 PM
Lehighton
LVHN Oncology
9:19 AM
10:19 AM
12:19 PM
2:19 PM
Lehighton
1st & North (Community Bank)
9:20 AM
10:20 AM
12:20 PM
2:20 PM
Lehighton
St. Luke's 6th & Iron
9:22 AM
10:22 AM
12:22 PM
2:22 PM
Lehighton
Gnaden Huetten Hospital
9:25 AM
10:25 AM
12:25 PM
2:25 PM
Lehighton
9th & Bridge
9:27 AM
10:27 AM
12:27 PM
2:27 PM
Lehighton
Lowe's
9:30 AM
10:30 AM
12:30 PM
2:30 PM
Lehighton
Walmart
9:35 AM
10:35 AM
12:35 PM
2:35 PM
Lehighton
Carbon Plaza
9:40 AM
10:40 AM
12:40 PM
2:40 PM
Bowmanstown
St. Lukes
9:49 AM
10:49 AM
12:49 PM
2:49 PM
Bowmanstown
White & Forge
9:50 AM
10:50 AM
12:50 PM
2:50 PM
Palmerton
Post Office
9:52 AM
10:52 AM
12:52 PM
2:52 PM
Palmerton
Delaware & 4th
9:53 AM
10:53 AM
12:53 PM
2:53 PM
Palmerton
Delaware & 6th
9:55 AM
10:55 AM
12:55 PM
2:55 PM
Connect with LANTA Route 325
Northbound

M, W, F
Weekdays
M, W, F
Weekdays
M, W, F
Community
Stop
701
702
701
702
701
Palmerton
Buses layover on 4th alongside Borough Park
Connect with LANTA Route 325
Palmerton
Delaware & 3rd
10:15 AM
11:15 AM
1:15 PM
3:15 PM
Palmerton
Delaware & 1st
10:17 AM
11:17 AM
1:17 PM
3:17 PM
Bowmanstown
St. Luke's
10:20 AM
11:20 AM
1:20 PM
3:20 PM
Bowmanstown
White & Forge
10:21 AM
11:21 AM
1:21 PM
3:21 PM
Lehighton
Lowe's
10:30 AM
11:30 AM
1:30 PM
3:30 PM
Lehighton
Walmart
10:35 AM
11:35 AM
1:35 PM
3:35 PM
Lehighton
Carbon Plaza
10:40 AM
11:40 AM
1:40 PM
3:40 PM
Lehighton
9th & Bridge
10:42 AM
11:42 AM
1:42 PM
3:42 PM
Lehighton
Gnaden Huetten Hospital
10:45 AM
11:45 AM
1:45 PM
3:45 PM
Lehighton
St. Luke's 6th & Iron
10:47 AM
11:47 AM
1:47 PM
3:47 PM
Lehighton
1st & South
10:50 AM
11:50 AM
1:50 PM
3:50 PM
Lehighton
LVHN Oncology
10:51 AM
11:51 AM
1:51 PM
3:51 PM
Jim Thorpe
Susquehanna & Race
11:00 AM
12:00 PM
2:00 PM
4:00 PM
Jim Thorpe
Jim Thorpe Market
11:05 AM
12:05 PM
2:05 PM
4:05 PM
Jim Thorpe
Jim Thorpe High School
11:10 AM
12:10 PM
2:10 PM
4:10 PM
Jim Thorpe
2nd & North
11:12 AM
12:12 PM
2:12 PM
4:12 PM
Nesquehoning
St. Luke's/Dollar General
11:15 AM
12:15 PM
2:15 PM
4:15 PM
Nesquehoning
Panther Valley Senior Center
11:18 AM
12:18 PM
2:18 PM
4:18 PM
Nesquehoning
New Columbus
11:20 AM
12:20 PM
2:20 PM
4:20 PM
Nesquehoning
NESQUEHONING (CT Main Office)
8:55 AM
11:25 AM
12:25 PM
2:25 PM
4:25 PM
Nesquehoning
Redner's
—
12:30 PM
4:30 PM
Lansford
Mid Rise
9:05 AM
12:35 PM
4:35 PM
Summit Hill
Summit Hill
—
12:40 PM
4:40 PM
Lansford
Panther Valley Mini Mall
9:08 AM
12:45 PM
4:45 PM
Lansford
Boyer's Lansford
9:10 AM
12:50 PM
4:50 PM
Coaldale
St. Luke's Miners Hospital
9:15 AM
12:55 PM
4:55 PM